First let me dispell a myth that has caused more harm than good, Black boys  read. If you are one of those parents who complains that your son is not interested in reading, then maybe you should ask yourself  do you know what his interests are?  Future post will examine genres and I will make recomendation on books you may want to consider.
 Mystery Novels
The Five Essential Elements of a Mystery
A mystery is a story that has five basic but important elements. These five components are:
the characters,
the setting,
the plot,
the problem, and
the solution.
These essential elements keep the story running smoothly and
allow the clues to the solution of the mystery to be revealed in a logical way that the reader can follow
Characters
The characters are the individuals that the story is about. The author should introduce the characters in the  story with enough information that the reader can visualize each person. This is achieved by providing detailed descriptions of a character's physical attributes and personality traits. Every story should have a main character. The main character determines the way the plot or mystery will develop and is usually the person who will solve the problem the story centers upon. However, the other characters are also very important because they can provide clues to solve the mystery or they may even try to throw the main character (and the reader!) off track. All characters should stay true to the author's description throughout the story so that the reader can understand and believe the action that is taking place—and perhaps even predict which character may do what next.
Setting
The setting is the location of the action. An author should describe the environment or surroundings of the mystery in such detail that the reader feels that he or she can picture the scene. Unusual settings (such as a fantasy world) can be interesting, but everyday settings can help a reader to better visualize the story. It can be especially fun to use a familiar setting for a mystery so that the reader feels even more connected to the plot!
Plot
The plot is the actual story around which the entire book is based. A plot should have a very clear beginning, middle and end—with all the necessary descriptions and suspense—so that the reader can make sense of the action and follow along from start to finish.
 Problem
Every mystery has a problem to solve, usually who committed a crime and why. Authors should fill mystery stories with clues, so that the reader can try to solve the puzzle along with the characters. Sometimes, an author may insert a false clue just to throw the character (and reader) off.
 Solution
The solution to the problem is the way the action is resolved—finding a missing item or the person who stole it, for example. It is important that the solution be believable. Authors must be sure to include all the clues necessary for finding the solution in the story somewhere (even if they are hidden very sneakily!).
Disney's Filmore is an excellent cartoon to introduce your son to the mysery genre. Unfortanatley its not available in the states. If interested click here
Selected Books
The Buried Bones Mystery 
In the first book in the Clubhouse Mysteries. Ziggy and his friends Rico, Rashawn, and Jerome call themselves The Black Dinosaurs, and share exciting adventures. In The Buried Bones Mystery, the boys build a clubhouse in Ziggy's backyard, where they uncover a box of bones while digging to bury their secret treasures. But when the boys try to hide their treasures, they're swept up in a mystery more intriguing — and scary — than anything they could have imagined. Who could have buried a box of bones behind their clubhouse? click
Kid Caramel: Books 
Kid Caramel, "Private Investigator" and his friend Earnest are visiting the art museum. Just after African Prince Abdu's elaborate film to introduce the Crystal Ankh is over, a smoke bomb explodes and the ancient treasure vanishes. The police cooperate with the junior detectives and lure the thief out of hiding with the announcement that the stolen Ankh was a fake. The public is invited to view the "real thing" (which is actually a chocolate creation made by Earnie's aunt, a candy maker). This smoothly paced, easy read should appeal to any child who loves a mystery. click
Eddie Red Undercover: Mystery on Museum Mile
Art, mystery, fun, and friendship combine in this illustrated middle grade series debut. Sixth-grader Edmund Xavier Lonnrot, code name Eddie Red, has a photographic memory and a talent for drawing anything he sees. When the NYPD is stumped by a mastermind art thief, Eddie becomes their secret weapon to solve the case, drawing him deeper into New York's famous Museum Mile and closer to a dangerous criminal group known as the Picasso Gang. With page-turning adventure and fun characters, this first installment in the Eddie Red series is a must-read for any fan of puzzles and mystery
Julian, Secret Agent 

Secret agents Julian, Huey, and Gloria are already heroes. They have rescued a dog and saved a toddler from drowning. But what they really want is to nab a real-live bank robber. Just when it looks like they might catch the crook, the police chief steps in. The supersleuths find that they're the ones who are in trouble—with a capital T! click here to order
Mysteries for older teens
Monster
This New York Times bestselling novel and National Book Award nominee from acclaimed author Walter Dean Myers tells the story of Steve Harmon, a teenage boy in juvenile detention and on trial. Presented as a screenplay of Steve's own imagination, and peppered with journal entries, the book shows how one single decision can change our whole lives. click
Fake ID
Gr 9 Up—Nick Pearson's real name is Tony Bordeaux. A high schooler in Witness Protection, this is the fourth new identity and home for Nick in the last few years. It's all because his father keeps falling into his old criminal habits. Despite this, Nick is trying his best to fit into his new life and school in Stepton, Georgia. He befriends his student guide, an eccentric aspiring journalist named Eli Cruz. As Eli attempts to persuade him to join the school paper, the reporter alludes to shady dealings and sinister happenings going on in Stepton, including something called "Whispertown." Unexpectedly, Nick finds Eli dead one morning. The police rule his death a suicide, but Nick and Eli's sister Reya suspect that he may have uncovered something that he shouldn't have. As evidence mounts, the protagonist begins to connect all the disparate events, culminating in deadly consequences. Giles's action-packed debut will have teens on the edge of their seats as they follow Nick's journey to discover the secrets of Whispertown and his attempt to uncover why his friend was killed. Teen readers will especially relate to the likable everyman and African American main character. His burgeoning relationship with Reya, despite being grounded in tragedy, is one of the more charming aspects of the plot. A twist reveal at the novel's climax will shock many and will leave fans of mystery and suspense books extremely satisfied.—Ryan P. Donovan, New York Public Library
Watson and Holmes: A Study In Black (Graphic novel)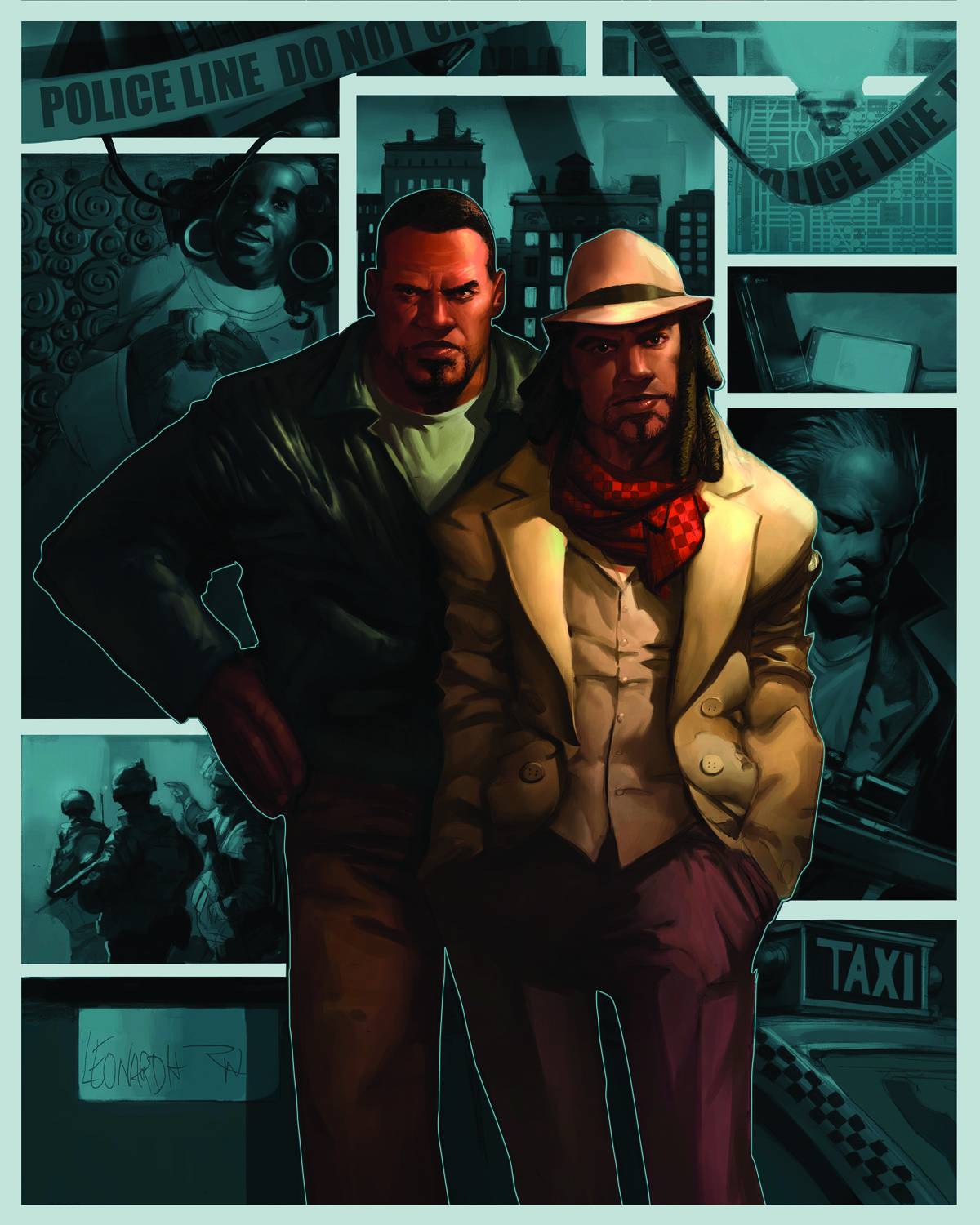 Sir Arthur Conan Doyle's Sherlock Holmes and Dr John Watson re-envisioning as African Americans living in New York City's famous Harlem district. Watson, an Afghanistan war vet, works in an inner-city clinic; Holmes, a local P.I. who takes unusual cases. When one of them ends up in Watson's emergency room, the unlikely duo strike up a partnership to find a missing girl. Watson & Holmes bump heads along the way as they enter a labyrinth of drugs, guns, gangs and a conspiracy that goes higher and deeper than they could have imagined. click
Luke Cage Noir
(Graphic novel)
A lot can change in ten years. And rarely for the better. Local legend, Luke Cage, invincible, unstoppable, unflappable, finds that out the hard way when he returns to the mean streets of Prohibition-era Harlem after a ten-year stretch in Riker's Island. All he wants is to be back in the loving arms of his woman, but certain powerful men have different plans for Cage. Willis Stryker, Cage's childhood friend turned Godfather of Harlem, wants him on his crew, and under his thumb. And wealthy white socialite Randall Banticoff, whose wife is now very dead, murdered in a Harlem alley, wants Cage to investigate her death. Cage is about to learn that coming home is never easy
Devil in a Blue Dress (Easy Rawlins Mysteries)

"Devil in a Blue Dress" takes the reader to post-War Los Angeles, a city burgeoning with new industry and opportunity in 1948. The hero is Ezekiel "Easy" Rollins, a war veteran who came to L.A. for sunshine and good jobs, but now finds himself laid off and in danger of losing his home. A friend introduces him to a sleazy character named DeWitt Albright, who offers Easy the opportunity to make some money fast. Albright is looking for a woman named Daphne Monet. In a city that is largely socially segregated, Miss Monet, who is white, frequents black night clubs and has black friends -some of the same clubs and friends as Easy. Whether in desperation or out of pride, Easy accepts the job and sets out to find her. His search takes him on a tour of the city's shadows: underground jazz clubs, bootleggers and blackmailers, political corruption, and finally to the irresistible and mysterious Daphne Monet.
Do you have books you feel need to be on this list?  Please let me know. The goal is to establish a fairly extensive list of mystery writers for teens and feature them
AJ Harper is the author of the Tales of Urba